Ask anyone, I'm not an Obama fan. I have to say, I really really wanted Hillary Clinton to be the nominee. But, it wasn't meant to be. I have been grumbling about it for days and watched the Democratic Convention each night nonetheless.
I was impressed by Michelle Obama and she held my attention throughout her speech. Pretty good speaker since I'm not keen on the subject of her speech - her husband.
The next night I watched Hillary Clinton. She was convincing, inspiring, and convinced me to vote for Obama. Why? No vote = McCain vote. I continued watching her speak, feeling so proud that she was one of the first women to run for the presidency. Her speech turned my stubborness around...pretty powerful if you know how stubborn I am.
Then, the next night: Bill Clinton. As he was introduced, his list of accomplishments were announced: The lowest unemployment in 20 years, a bull market for 8 years, job growth, hell, let's just say unprecedented prosperity. Easily, the finest American president in my lifetime. Whether you love him or hate him, he is brilliant. I listened with interest as he reminded us of the parallels between Governor Clinton of 1992 and Senator Obama of 2008. It was familiar rhetoric.
As I watched Sen. Hillary Clinton interrupt roll call. I was spellbound. This was a moment they would be writing in the history books and I am watching it unfold.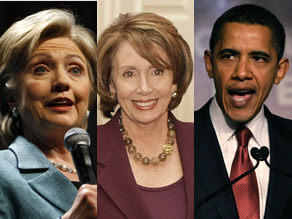 One of the first women to run for president is asking to forego the delegate count in order to nominate the first African American for the Democratic nominee. The first female Speaker of the House, accepted the motion and so it was done. I watched as the cameras panned to audience members as black women and men shed tears of excitement and remembered the long hard road that was navigated initially by Dr. Martin Luther King and a host of others.

Now that a black man is in a position of power, I worry that those who are ignorant and those who are affiliated with hate groups will cause this historical event to run a short course.

Just as Hillary quoted Harriet Tubman in her quest to have women be able to vote, "Keep Going", I'm reminded of Alice Walker's "The Color Purple" when Celie recounts her hardships as a poor, black woman in the South and voices concern regarding her sister-in-law's lofty attitude of herself.
Sure enough, her sister-in-law is labled as "trouble" because of her inner strength and power and she is publicly beaten to the ground both physically and emotionally.

Celie merely offers this simple phrase as the cause of her beating. ..."People don't like it when you're too free..."

Keep your head low and "Keep Going," Sen. Obama.